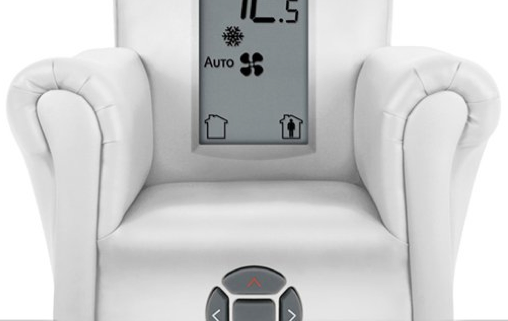 Learn how to modernize your home with an automated HVAC system.
Programmable thermostats have been around for a while – they allow homeowners to program a heating and cooling schedule that corresponds to when they're typically in and out of the house. But what if plans change?
Used in conjunction with a ComfortLink™ or ComfortLink™ II, the Nexia™ Home Intelligence allows you to control your thermostat remotely from a smartphone, tablet or PC. If you're heading home from work early, simply turn on the furnace or air conditioner using your preferred device and come home to comfort. Rather than estimating your family's comings and goings, the ComfortLink™ II allows you to precisely manage when your HVAC system is running, saving you money on your energy bill.
Pair your automated HVAC and home security systems for a truly modernized home.
In addition to enabling remote HVAC control, the Nexia™ Home Intelligence system can also be paired with a Schlage® Home Keypad Deadbolt and Home Dimmer Module for the following security and comfort conveniences:
•    Control temperature settings and manage energy use
•    Allow entry to your home through the Schlage® Home Keypad even when you're not there
•    Assign up to 19 private four-digit codes for family members
•    Receive instant texts and email alerts when codes are used
•    Set recurring codes for housekeepers or frequent guests
•    Add, delete or change user codes remotely
•    Confirm the status of your wireless lock from anywhere
•    Program lights to turn on/off at different times of the day
•    Schedule your lights to turn on when lock code is entered
Get a free estimate for your automated HVAC system.
The ability to remotely monitor and control your home's HVAC and alarm systems can lower your energy usage and make your home more secure. To learn more about how the Trane ComfortLink™ II and Nexia™ Home Intelligence system can modernize your home, contact Norris Mechanical … your local Trane Comfort Specialist.
http://www.norrismechanical.com/wp-content/uploads/2015/11/Automation.png
485
508
Norris Mechanical
http://www.norrismechanical.com/wp-content/uploads/2015/09/norris-llc-header-logo.png
Norris Mechanical
2015-11-04 10:01:46
2015-11-04 10:01:46
How An Automated HVAC & Security System Can Modernize Your Home