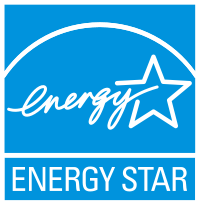 Many of the Trane high-efficiency products Norris Mechanical installs meet the ENERGY STAR guidelines for energy efficiency. An HVAC unit may be rated as a 20 SEER device in the box, but when the unit is installed in a home, what the system actually delivers in terms of efficiency may be different due to certain variables in the home. Efficiency can go down due to factors such as improper air flow, mismatched coils and leaking ducts. It's important to make sure your HVAC system is installed properly so you are getting the most efficiency possible from your system. As your local Trane Comfort Specialist, Norris Mechanical can help you make sure you get the most from your system.
RATED EFFICIENCY relates to HVAC systems that are rated in laboratory conditions assuming the refrigerant charge and system airflow is 100 percent accurate.
APPLIED EFFICIENCY is what the system actually delivers once it's charged and installed.
Quick facts on system efficiencies:
• 70 percent of HVAC systems do not have the correct air flow, which impacts energy efficiency (according to the Environmental Protection Agency).
• Almost 74 percent of HVAC systems have an improper amount of refrigerant, which can impact performance by up to 15 percent. This can result in higher energy costs, reduced reliability and faster wear and tear because systems do not operate at maximum efficiency.
Norris Mechanical offers Trane's technology that is designed to achieve maximum efficiency, reliability and comfort, delivering the efficiency its ratings promise and customers expect. Trane has designed the Trane ComfortLink™ Communicating System that harnesses the power of digital communication to go far beyond heating and cooling to ensure your system is working as efficiently as possible. This special technology is built into specific Trane products, allowing them to "communicate" with each other. The interface enables all communicating components in the air conditioning and heating system to be automatically and properly charged, configured and calibrated. The system is designed to run its own self-diagnostics to ensure the proper airflow for heating and cooling modes, as well as the correct heat source configuration, blower timings and humidity control.
There are plenty of things you can do to make a lasting difference when it comes to home energy management, but unfortunately, it's easy to end up buying a heating, ventilation and air conditioning system that is too large (or too small) for your home, which means you could be paying to heat and cool space that isn't even there. Heating and cooling your home can often be complex and confusing. With all the acronyms, terminology and choices, it can be easy to feel overwhelmed when trying to find the system that best fits your home's needs.
As your local Trane Comfort Specialist, Norris Mechanical believes that "greening" your home shouldn't be a complicated process. We welcome the opportunity to demystify the process of making your home more energy efficient all year long. Contact Norris Mechanical today for a free consultation and estimate to make sure your home heating, ventilation and air conditioning system's applied efficiency matches the factory rated efficiency for the ultimate in both comfort and savings.
https://www.norrismechanical.com/wp-content/uploads/2015/12/200px-Energy_Star_logo.svg_.png
205
200
Norris Mechanical
https://www.norrismechanical.com/wp-content/uploads/2015/09/norris-llc-header-logo.png
Norris Mechanical
2015-12-01 15:23:16
2018-01-21 17:59:16
Achieving APPLIED Efficiency That Matches RATED Efficiency