Air Conditioning Services Provided By Norris Mechanical, LLC
Local Air Conditioning Repair, Installation, & Maintenance


Residential & Commercial AC Services include:
AC Unit Change Outs
Mini Split AC Units
When you need service on your Air Conditioning cooling system for your home or business, contact the professionals from Norris Mechanical, LLC.  We offer a diverse range of specialized and rewarding services targeted at maximizing your return from your investment thru our AC & heating maintenance programs to keep your units running efficiently & effectively.  Our certified & experienced technicians have the necessary training, hands-on experience, and leading technology equipment to work on all makes and models, while quickly & accurately pinpointing the root cause of the problem, and making proper corrections.
Any type of difficulty, whether minor or complex, is no problem for our veteran team. Since first opening our doors in 1984, we've faced and handled every possible issue, from simple maintenance needs to complete system failure, and always bring about solutions home and business owners in the Outer Banks can count on for perfect comfort. Getting the right service the first time saves on time & money.  Whether you need regular maintenance on your air conditioner unit, a minor repair, or an installation of a new unit; our trained technicians will get your AC unit up & running in a timely manner.
We install and repair:
Air Conditioning Systems (Installation, Service, & Repair)
Boilers
Trane Installation & Repair Specialists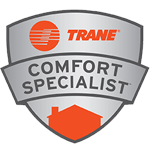 Trane Air Conditioning Systems
As HVAC Specialists serving our clients in the Outer Banks for over 30 years, we have found that Trane Air Conditioning Units are able to take the North Carolina heat better than many other brands. If you have another brand you need serviced, we have the ability to service and repair them as well, so feel free to call to have our team of licensed technicians to come and get your unit working again. We have become one a Trane Comfort Specialist to help you make the best decision on what unit is best for your needs, goals, and budget. Trane offers a variety of ac units, but below you will see the top units many of your neighbors have installed from our recommendations based on climate, efficiency goals, as well as budget.
Trane's innovation in the HVAC industry has taken variable speed technology to the next level, with air conditioning systems that intuitively adjust to changing heat temperatures in North Carolina. If you are one of the early adopters to the smart home movement, we can even help automate your system while connecting it to your mobile and/or tablet devices.  Our air conditioners work only as hard as they have to – at more efficient, quieter speeds to keep your home or business at the cooling temperature you prefer.
Air Conditioning Installation
The Best Air Conditioning Installation
Norris Mechanical provides a seamless AC unit installation process for your home or business. The listed Trane Air Conditioning Units above are some of the most popular and used AC units that our staff and your neighbors have trusted and are using currently to cool their homes.  If you'd prefer another air conditioning brand, we can accommodate your needs. We provide can provide AC systems from other trusted manufacturers, even though our experience shows that Trane is the preferred manufacturer for the Outer Banks area. Poorly installed Air Conditioning systems will cost you more money in the long run. Let us help you steer clear of such problems by doing everything right the first time.
By choosing Norris Mechanical, you know you will get:
Correct positioning of air handlers for maximum cooling coverage
Proper placement and anchoring of outdoor units to ensure sufficient airflow around each unit
Efficient ductwork to provide an even, regulated air flow throughout the entire service area
Regular Air Conditioning System Maintenance Ensures Peak Performance
We perform regularly scheduled preventive maintenance and repair service for your AC, which includes filter inspection and cleaning, troubleshooting, replacement of defective parts, and more.
Get more with an Energy Savings Agreement (ESA) – with ESA you can have regular annual maintenance on all of your home's heating and air conditioning systems for one low rate. Additionally, you'll get preferred scheduling and discounted pricing on already low, flat rates.
Reliable AC repairs throughout the Outer Banks!
Every job is important to us.  Any concern with your cooling system should be immediately addressed, especially with the heat & humidity of the Carolina coast.  Even minor faults have the potential to increase energy use, lead to property damage, and set off a chain reaction that will compromise the entire system.  Whether you are a home owner, business owner, or property owner of rental properties; every dollar saved on your energy bill is important.  Little things, such as hearing odd noises, bad smells, non-stop run times for your units, lowered cooling capacity, excess moisture (something that is normal on the Carolina coast), or even an increase of dust in the air, are tell-tale signs of bigger problems to happen in the near future.
When managed quickly, these disruptions to your comfort are a minimal, simple, and inexpensive fix (something everybody wants).  If you put off these maintenance issues, it typically only costs you more money than having a licensed technician maintenance your AC unit. Have the professionals from Norris Mechanical inspect, adjust, and optimize your system.  You'll benefit from restored efficiency, sound levels, more precise comfort while running lower energy costs.  Having peace of mind of knowing your system is operating at its best, providing an ample supply of clean, fresh, cool breathing air is important for everyone's health.
Stay cool all year round with professional air conditioner repairs from Norris Mechanical, LLC
Look no further than Norris Mechanical for the service you want & deserve.  We know what it takes to earn your satisfaction, and with our continued commitment to quality, we continue to add more valued customers in your local community that trust us for their cooling needs.  Know that you will never spend your day waiting for the arrival of a licensed technician from Norris Mechanical.  Your schedule will not be disrupted by multiple service calls.  There will be no mess for you to clean up or discarded equipment to deal with.  Our team takes great pride in a job well done.
Our licensed specialists arrive on time, prepared to handle the full scope of the job, and complete projects quickly, neatly, and most often, in one visit.  We keep you informed, provide cost-effective recommendations, and deliver solutions that withstand the intense local Carolina weather.  Call Us and you will have your ac unit running tonight!
Air Conditioning Repair • A/c Repair
Norris Mechanical, LLC is proud to be a licensed & Certified Trane® Comfort Specialists Dealer serving the six counties of the Outer Banks communities.
Keeping your AC unit maintained is important in helping keep your energy costs down.  The average homeowner spends approximately $930 on heating and cooling costs, that is approximately 1/2 that homes total costs. If your central air conditioning unit is over 12 years old, replacing it with a Certified ENERGY STAR model could cut your energy bill by another 30% (Click Here for Data).  Let Norris Mechanical help lower your energy bills with an updated energy efficient unit. Ask about special financing offers and rebates available.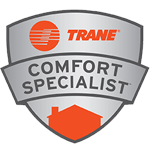 Hire A Skilled HVAC Company with Skilled AC Technicians
We understand that when your air conditioner is not working, you want the problem taken care of—fast. If you want to make repairs on your existing unit, give us a call at (252) 491-2763, and we will send a skilled AC technician to your property as soon as possible. If you are ready for a new air conditioner, we will get you on the schedule as soon as possible to minimize your discomfort.
How does the installation process work?
Homeowners often struggle with a simple question: Should I repair my AC unit, or does it make more sense to replace it? Given the costs associated with replacing your air conditioning system, this question isn't one to be taken lightly.
For this reason, Norris Mechanical offers a free estimate for new systems and upgrades. Energy analysis is also available at an addition cost to help the homeowner evaluate the cost of a new energy efficient system compared with the cost of repairing their current system. Once homeowners make the decision that works best for their budget and needs, Norris Mechanical can either schedule repairs or have a new system installed.
Once a new system is installed, Norris Mechanical guarantees its work for a full year. During that time, if anything breaks or homeowners are not satisfied, Norris Mechanical will repair your unit, at no cost to you. As a Trane Comfort Specialist, Norris Mechanical is able to replace any faulty equipment with new equipment within the first 60 days.
What are the benefits of installing a new AC system in my home?
The average lifespan of an air conditioner is usually between 10 and 15 years. If your unit is approaching this point, you will probably notice it is working harder to cool down your home. As with many other appliances, you will need to start weighing the costs to make repairs against the considerable cost savings you can experience with a more efficient replacement.
The U.S. Department of Energy estimates that about 6% of your total energy costs goes toward cooling your home. Over time, the increased up-front cost of purchasing a new unit is quickly offset by the 30% to 50% energy saving that can come with a new AC system.
For a typical home, this could mean that instead of paying $200 per month in electric bills during peak months, your monthly bill shrinks to $100.
Other benefits of a new air conditioner include:
Quieter operation
More precise temperature control
Advanced ability to decrease humidity
Air purification function to combat all three classes of indoor air pollutants
Zones to direct airflow to certain areas within your home
"Smart" controls to allow a homeowner to adjust temperature with a mobile device
Automate Your HVAC System for Efficiency
Most homes don't get the same amount of sun or shade all day, so why would you expect to need the same type of cooling or heating all day? With Trane's ComfortLink™ II Zoning system, you can set a schedule based on your home's unique temperature patterns and control it all from wherever life takes you with our exclusive Nexia™ system. Every ComfortLink II Control comes with remote "climate access", allowing you to monitor and control your zoning system through any web-enabled device.
Geothermal for Residential Air Conditioning
Unlike a lot of HVAC systems, geothermal heating and cooling units do not burn fossil fuels. They use power to access the planet's internal temperature, which remains constant whatever the weather outside. In the summer, the earth's center is cooler than its glowing surface. In the winter, it is warmer than the frozen ground. To better understand the science behind geothermal, heat pumps can be a valuable point of comparison. If it gets warmer, geothermal systems move unwanted warmth back beneath the surface. If you are into the "Green" movement in making Earth a better place, going the geothermal route for air conditioning or heating your home could be the way to go.
According to the Environmental Protection Agency, geothermal systems are among the most efficient ways to heat and cool your house. These Eco-friendly systems do not just benefit the entire world –they provide big savings. Geothermal units lower your monthly heating and cooling costs and might qualify you for incentives, rebates and tax credits.
What warranties do you offer?
Norris Mechanical offers a one-year warranty on AC installation services. If anything breaks, or if you are not satisfied, Norris Mechanical will repair your unit, at no cost to you. As a Trane Comfort Specialist, Norris Mechanical is able to replace any faulty equipment with new equipment within the first 60 days.
Norris Mechanical also stands by our repair services. If you are still experiencing problems with your air conditioner after a service, Norris Mechanical will make a return visit to fix the problem.
What brand of units do you recommend?
Norris Mechanical has been making homeowners' lives easier for over 30 years. During that time, we have seen that Trane offers superior and reliable home comfort systems at a reasonable cost.
Norris Mechanical is a certified Trane Comfort Specialist. This partnership means that our highly-trained and skilled technicians have a thorough understanding of Trane's entire product line. In addition, our techs are experts in performing routine maintenance and repairing any problems which may develop over time.
Think about Air Quality for a Healthy Home
We would also recommend looking at some of our advanced air quality products.  The quality of the air in your home isn't only about temperature. Trane's air quality products will remove dust, pollen, allergens and airborne particulates, making the environment in your home clean and healthy as part of the Healthy Home solution. With all the cancer's and diseases that are an effect of the air we breath (read more here )everyday, taking the quality of air in your home seriously is important.
Camden County:
Chowan County:
Edenton
Rockyhock
Selwin
Sign Pine
Tyner
Currituck County:
Aydlett
Barco
Coinjock
Carova Beach
Grandy
Harbinger
Knotts Island
Jarvisburg
Maple
Moyock
Point Harbor
Poplar Branch
Shawboro
Dare County:
Avon
Buxton
Duck
Frisco
Hatteras
Manns Harbor
Manteo
Nags Head
Rodanthe
Salvo
Stumpy Point
Southern Shores
Wanchese
Waves
Pasquotank County:
Perquimans County: