Your heating and air conditioning system is a considerable investment. The best way to extend the life of that investment plus increase both your comfort level and your energy operation costs is with an exclusive Norris Mechanical Energy Saver Agreement [ESA]. Call us today to get the most value out of your heating and air conditioning system.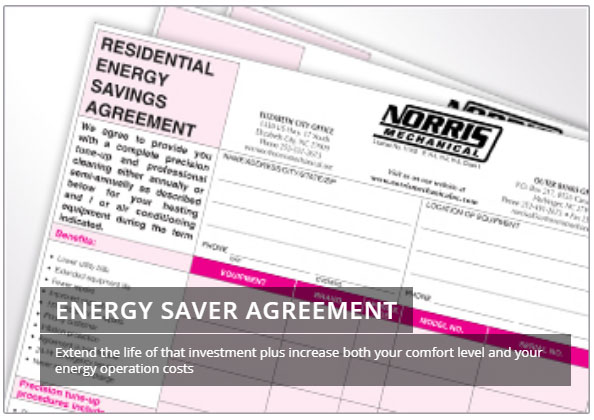 Precision Tune-Up Procedures Norris Mechanical Performs With Your Signed ESA
Clean and adjust burner assembly
Clean ignition assembly
Clean heat exchanger or elements
Monitor flue draft
Monitor refrigerant pressure
Test starting capabilities
Test safety controls
Clean and adjust blower components
Measure for correct air flow
Tighten electrical connections
Measure volts / amps
Lubricate all moving parts
Adjust thermostat calibration
Clean evaporator coil if accessible
Clean condenser coil
Clean condensate drains
Measure temperature difference
Apply protective coating to outside unit
Energy Saver Agreement Benefits
Lower Utility Bills
Extended Equipment Life
Improved Performance Capacity
Priority Customer Status
No Overtime or After Hours Fees
Inflation Protection
15% Discount on Repairs
Bi-Annual Scheduled Tune-Ups/Cleanings
Transferable Agreement Improves Equity
Refer a friend, family member or business acquaintance that uses Norris Mechanical for service and receive $25.00 off your next repair, service call, Plumbing Maintenance Agreement [PMA] or Energy Saver Agreement [ESA]. Receive a $50.00 Gift Card if your referral purchases new equipment installed by Norris Mechanical.