Trane Gas Furnaces
As a Trane Comfort Specialist, Norris Mechanical offers the quality and innovation of Trane furnaces that have been designed with efficiency and ability of precision temperature control wanted by home and business owners. Trane has created several options for furnaces with their one-stage, two-stage and modulating furnaces styles to meet the need of home. Our customers as well as our certified technicians trust the reliability and efficiency of Trane furnaces that are guaranteed to make those couple cold winter months in North Carolina more comfortable in your home.
QUALITY HEATING INSTALLATIONS
Norris Mechanical, LLC is one of the Outer Banks top performing Service and Repair Company and we believe "Home Owners" are tired of wasting their time with contractors who don't show up, have to make multiple trips to get the job done, and poor quality workmanship: You shouldn't have to wait at home all day for service.
Norris Mechanical can help you save energy cost by installing a high efficiency heating system. All systems we sell are installed to factory specifications by highly trained, heating and air conditioning technicians. Our service department is available to our clients 24/7. Our dedicated staff of technicians is trained to work on the systems we install and we stock the parts needed to keep your system running.  We install and service all makes and models, though we prefer Trane from our 30 years of experience.
Above you will see several of the top installed Trane furnace models in the Outer Banks area from our experience.  Another heating installation option highly used in the Carolina's are heat pumps. One way to save money long-term on HVAC systems is by packaging the systems together where they work for efficiently together.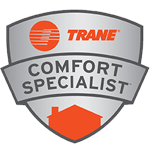 COMFORTABLE EFFICIENCY
High Efficiency Trane Gas Furnace
The Annual Fuel Utilization Efficiency (AFUE) rating measures the efficiency of a gas furnace in converting the gas to energy while estimating the average thermal efficiency for a typical furnace burning season. The higher AFUE rating, the greater energy efficiency rating of the furnace. Trane has far exceeded the minimum standard the government requires of 80 AFUE for a new furnace with the Trane 95 and 90 gas furnaces deliver at least 90% efficiency. If you have lived in your home for more than 10 years and haven't replaced your furnace, it most likely has an AFUE rating in the range between 60 and 70 – meaning 40%, or up to 40 cents of every dollar you pay for gas or propane, is wasted because of its inefficiencies.
MAXIMIZE YOUR COMFORT
Complete Your Trane HVAC System
Natural gas furnaces contain four main components that include burners and a heat exchanger, the blower and controls. These systems typically require little to no maintenance. If you have an older furnace, you may want to look at the affordable maintenance agreements Norris Mechanical provides to keep your furnace as efficient as it allows. With the dry heat blown into your home from the furnace in the winter consider adding a humidifier that will add moisture to the air to maximize your comfort in your home. The humidifier will also reduce static electricity. When you match these Trane components in combination together as a complete system, you get cleaner & healthier air you and your family.